Scyther
→ Scizor
Gender
: Male ♂
OT
: Silver
Battles:
3
Abilities
:
Swarm
- When HP is below 1/3rd, Bug's power increases to 1.5 times.
Technician
- Moves with a base power of 60 or less raise to 1.5 times.
Attacks
: Quick Attack, Leer, Focus Energy, Pursuit, False Swipe, Agility, Wing Attack, Fury Cutter, Slash, Razor Wind, Double Team, X-Scissor, Night Slash, Double Hit, Air Slash, Swords Dance.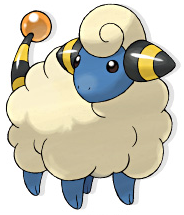 Mareep
→ Flaafy → Ampharos
Gender
: Male ♂
OT
: Silver
Battles:
0
Abilities
:
Static
- The opponent has a 30% chance of being induced with paralysis when using an attack, that requires physical contact, against this Pokemon.
Attacks
: Tackle, Growl, Thundershock, Thunder Wave, Cotton Spore, Charge, Discharge, Signal Beam, Light Screen, Power Gem, Thunder.