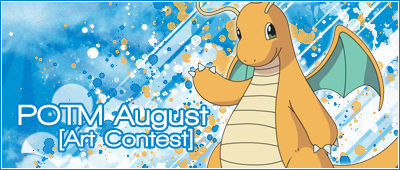 Pokemon of the Month August
Art Contest
Hello all, and welcome to the first Pokemon of the Month Art Contest. This month we ask all you talented artists out there to create a piece of art involving at least one of the Pokemon of the Month: Dratini, Dragonair and Dragonite.
You may draw in any style, on the computer or by hand. You can draw, paint, sculpt, sew, anything you like. The whole artwork must be your own work. No graphics or sprites, please.
The ony rule is as follows:
You may only submit entries that have also been submitted to the Creative Dex.
So once you've finished your entry, please submit it to the Creative Dex:
-
Dratini's thread
-
Dragonair's thread
-
Dragonite's thread
(Remember you may submit it to both the Dratini and Dragonite threads if it contains both a Dratini and Dragonite in it, etc.)
You do not have to wait for it to be accepted to the Creative Dex, nor does it eventually have to be accepted. As long as you submit it, you may enter here!
On
August 22nd
, entries will close and a voting poll will be put up. The winner will be announced on August 27th and will have their artwork displayed on the PE2K website in all its glory, along with your answers to the questions in the entry form. All entrants will also have their artwork featured.
I encourage everyone to enter just for fun! Have a go at drawing a new Pokemon if you've never tried drawing the Dratini family before!
Entry Form:
Code:
Title:
Link to Entry:
What was your inspiration/a short description:
What do you like/dislike about the Dragonite family/personal reflections:
Link to Creative Dex submission post: