Here are mine... what else should I say... PIE! I SHOULD SAY SOMETHING ABOUT PIE! ... I got it! Everytime I say pie, you give me a pie!

The new Ice Gym Leader when Brycen retires (Whew! That's a long ti-PIE!)
Me with Snivy (I need some pie)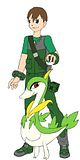 Me with Servine (Seriously, where's my pie?)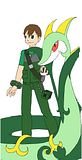 And me with Serperior. ( I said pie three times, now a fourth. WHEREZ MAH FREAKING FIVE PIEZ?!?!?!?!?1/1/1/1//?!/1/1)
Now I know not to try to erase and edit final stages xD
I liked them all. Even though the Serperior sucked the most.
I still like Serperior and all stages of Snivy, though