GoofWingull URPG Stats
Username:
GoofWingull
[AIM - TacoSuperMan]
Money:
$4,000
Win l Lose l Draw Record:
0 / 2 / 0
Current Position:
Trainer
Pokemon:
Sentret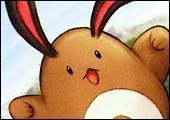 Gender: Male
Ability: Keen Eye
Number of Battles: 2
Stories:
Around comes Zubat
Description:
While Tyron was shopping for his mother, a their broke into the Pokemart and stole money. Tyron made an attempt to stop the theif but the theif had defeated Tyron's Sentret easily with his Golbat and made his escape. Tyron chases him into Viridian Forest where he runs into a Wild Zubat. Sentret and Zubat had a fierce battle and when Zubat was rendered helpless Tyron threw a Pokeball at it...
[
NEEDS GRADING
]
Items:
N / A
Used Items:
N / A
TM's / HM's:
N / A
Used TM's / HM's:
N / A
Badges:
N / A